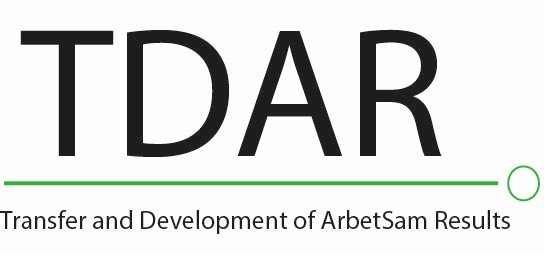 TDAR – Transfer and development of ArbetSam results
The current demographic situation in Europe is a challenge for the care sector. Elderly people make up a growing segment of the population and the demand for quality in elderly care is rising. The call for training is clear. Personalization in elderly care makes care and language skills more and more important to both the employee and the elderly person. The European commission's new Rethinking education strategy urges educational systems to respond to the real needs of today's society and looks to a strengthening of links between education and employers.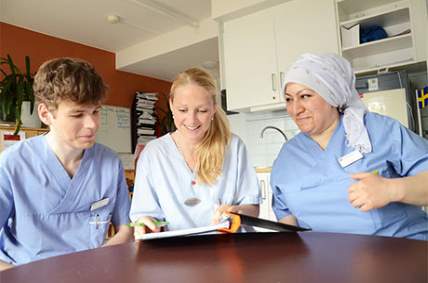 The care workforce across Europe is characterized by migrant workers with low educational attainment and limited majority language skills. Effective approaches to VET and work-related language training are needed. Research confirms that the workplace can be a rich environment for learning. Language training in combination with a supportive environment leads to better language development. Reflective discussion in daily work is a method to develop new knowledge and better ways of working.
The project aims to contribute to the development of vocational training for staff in the care sector by transfer and further development of the innovative results from the project ArbetSam and SpråkSam to different European countries. This means to transfer a new conceptual framework in training with a new methodology in which not only the target group for vocational training is involved, but also the managers and key personnel in the organization. This changes the focus from academic training to workplace training.
The consortium consists of partners chosen to make an efficient team. Within the consortium there is long experience and knowledge of running big and complex projects as well as specialist competence for vocational educational training and workplace and language learning. The core partners represent different organization forms and different competences that are crucial for the project result. The partners are chosen according to their knowledge and experience from different areas such as management, research, administration within elderly care, health care, VET, adult education, second language learning, workplace learning and intercultural issues.
The core of the innovative results are the focus on the workplace learning, the cooperation between vocational educational system and working life and the scaffolding and support for learners of a second language. The results (e.g. CEFR adapted to the elderly care context) will be exported, imported, developed, exploited and disseminated at a European level. The result of TDAR will be further developed methods and models for VET, where language skills, intercultural competence and adult education are integrated both in care and other sectors.
TDAR will contribute to the development of the VET system and make it more individualized and more influenced by the world of work. The project is situated within the regular systems for VET which ensures the sustainability of the results.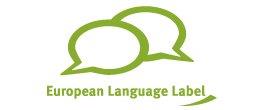 Contact
This project is now managed by Vård- och omsorgscollage:
Partners
SWEDEN
Stockholm Gerontology Research Center (Stiftelsen Stockholms läns Äldrecentrum) is the former project owner of TDAR. The overall aim in the project is to spread knowledge and awareness of the special learning processes involved in workplace learning, acquiring a second language and initiate discussion concerning intercultural issues and exclusion. 
The core areas of the center are research are development. Its task is to improve living standards for the elderly by utilizing and putting into practice experience and research results. The center has been responsible for several large projects whose aim is to reinforce workplace learning and the workplace as a form of learning. The APU project and SpråkSam are earlier examples of major projects. The current project under the name of ArbetSam builds on the experiences and evaluations of the earlier projects. The ArbetSam project aims to strengthen those working in elderly care that, due to a lack of skills, are in a weak position on the job market. By raising the skills level of the entire workplace, quality is improved in both the care services provided and in individual learning.
Associated partner: Labour Market Department, City of Stockholm
GERMANY
Interculture.de e.V – a non-profit organisation spun off from the Institute for Intercultural Business Communication of Jena University. interculture.de e.V. offers continuing education programmes for adults in the field of "Intercultural Communication". There are three long term programmes (1yr. – 1.5yr.) in train-the-intercultural-trainer/coach/mediator, which are usually attended by adults working full- or part-time. Additionally interculture.de e.V. offers open access workshops and seminars (e.g. Intercultural Summer Academy) as well as bespoke in-house training for organizations. interculture.de e.V. has  current and past experience of national and European projects dealing with intercultural topics, e.g. the ESF funded "Diversity as a part of  organisational culture in eldercare". Most of interculture.de e.V.'s  programmes use blended learning and  interculture.de e.V. has extensive e-learning experience.
ENGLAND
Oxfordshire Skills Escalator Centre – is a social enterprise that exists to support learning in the low status workplace, particularly in relation to the crucial foundation skills of literacy, English language, ICT and numeracy. Established in 2007, it has historic links to health and social care organisations in Oxfordshire and combines work within Oxfordshire (where, for example, it is currently involved in work to support the dementia care workforce), with support for relevant national and international research and development. Work relevant to the proposed TDAR project includes the Social Care Institute for Excellence's 'Care Skillsbase' (an online communication and number skills resource for social care employers); Skills for Care's 'Learning through Work' (an on-the-job learning resource for care workers); and the European Centre for Modern Languages' professional networking project, 'Developing migrants' language competences at work'.
SPAIN
Nazaret culture centre — Nazaret Zentroa is a vocational educational training institution supported by the Social Work of a local bank – Kutxabank.  Nazaret has a long tradition of providing quality education for students from all backgrounds, which stretches back almost 100 years. We train students in Business Administration and Finance, Sales Management, Secretarial Studies and Social Care. We also provide vocational training and Life Long Vocational Training courses for employed adults, the unemployed, immigrants, companies, institutions and the general population. Our organization fully manages another educational training institution belonging to Kutxabank called, KUTXAZABAL, specializing in the vocational training of health and social care professionals and immigrants who care for elderly and/or disabled people. This facility is fully equipped with technical aids for the adequate training of students. NAZARET zentroa has also been approved to provide students with a professional qualification.
BELGIUM
UC Leuven-Limburg is an institution for higher education in Flanders, Belgium, and is part of the respected University Association Catholic University Leuven, which brings together 13 institutions of higher education in Flanders. UC Leuven-Limburg is renowned for the high quality of its teaching and its research. In the aggregate, more than 40 bachelor and master programmes are offered in a diversity of fields, including health care, social work, business & commerce, education, science & technology and media & design. UC Leuven-Limburg´s strong commitment to research ensures state-of-the-art training programmes for its 6000 students. The research policy is focused on applied research, driven through the need of the market. UC Leuven-Limburg´s mission is to develop innovations for companies, and to transfer innovations to the market. The research group 'elderly care' of the department 'health and care' focuses on person centered care for the elderly.
Material
TDAR Closing Conference
Stockholm, September 9, 2015
Programme
Invitation to TDAR Closing conference, Stockholm, september 9, 2015 (pdf)
Documents
Context analysis report: Partner Country Profiles (pdf)
Context analysis report: Summary of findings (pdf)
Arbetsam reference wordlist (pdf)
Presentations
Trends, demands and skills needed inthe Stockholm region (pdf)
Ylva Disheden, County Administrative Board of Stockholm
Demographic changes and future recruitment needs – challenges for the City of Stockholm (pdf)
Clara Lindblom, chairman of Stockholm Gerontology Research Center and elderly mayor in the City of Stockholm
TDAR – The European Perspective (pdf)
Carina Hammar, Swedish Council for Higher Education
TDAR – Spreading knowledge and awareness of new approaches in workplace learning (pdf)
Kerstin Sjösvärd, project leader, Stockholm Gerontology Research Center
Piloting TDAR: language advocates and language diversity – the case of the Basque Country (pdf)
Nereba Peña, director of studies, Nazaret Zentroa, San Sebastian
Intercultural training, reflective discussion, language advocates. Dealing with intercultural challanges (pdf)
Florian Frommeld, Interculture d.e., Germany
ArbetSam in Belgium: a mission impossible?! (pdf)
Jesse Verschuren, UC Leuven Limburg, Belgium
Dissemination of Language Advocate Training (pdf)
Zenita Cider, Health and Social Care College
Learning from each other (pdf)
Karin Sandwall, National Centre for Swedish as a Second Language (NC)
About results in England and evaluation of the TDAR-project (pdf)
Alexander Braddell, OSEC, United Kingdom
Newsletters
Films
Material
In Spanish
Basque language
Material from Germany
Adapted versions of cefr-scale
Development programmes
Conference documentation
TDAR in the media